Summer's Coming Soon

Seagrass Bay, Laucala Island, Fiji
This 7.5-square-mile private island paradise is a 50-minute charter flight from Nadi and worlds away from everyday life. Covered in tropical jungle (reached via guided walking tours or horseback rides), Laucala is home to some of the archipelago's rarest birds and animals, pristine beaches, and spellbinding marine life. Seagrass Bay is the quietest of the resort beaches, and a perfect spot to play at being Crusoe—albeit with a fabulous, open-air dining room nearby.
Bathsheba Beach, Barbados
Rugged, wild, and untouched are just some of the words used to describe this shoreline, where photographers and surfers flock to catch the best waves and watch the "Soup Bowl," a name for when the waves crash into the white sand and huge boulders to create a mesmerizing natural phenomenon.
Sunset Beach, Oahu, Hawaii
One of the world's best places to watch big wave surfing in winter (the beach is home to the Vans Triple Crown), the water here becomes as calm as a lake in summer, making it an excellent spot for snorkeling. After a day spent in the sand and surf, don't towel off and head home just yet: As its name suggests, it's the sunsets that really seal the deal for visitors.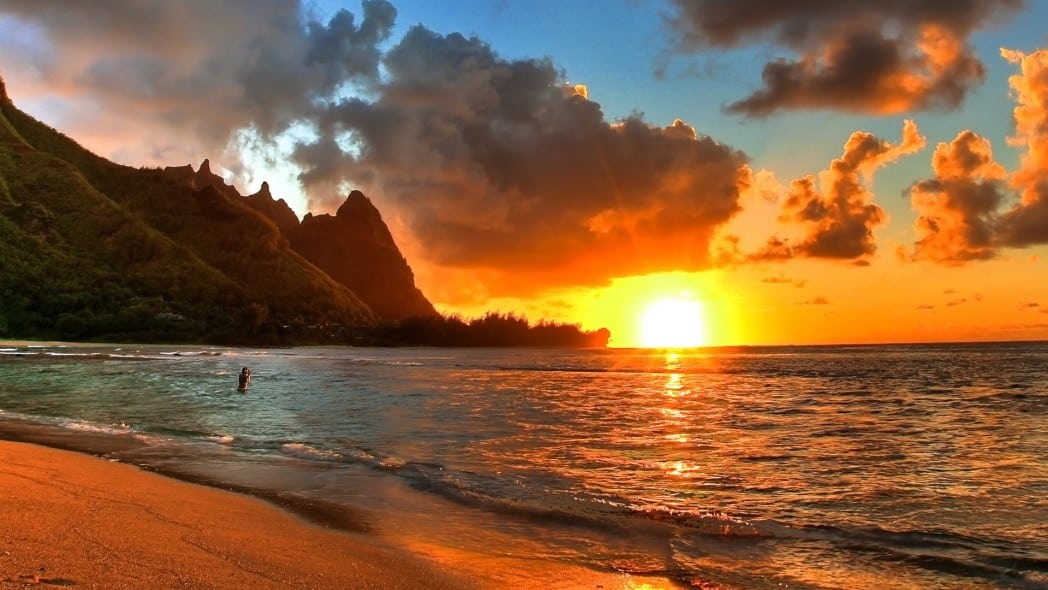 Honopu Beach, Kauai, HI
Also known as Cathedral Beach, Honopu—like Waipio Valley—is quite difficult to reach. For starters, it's only accessible by water; to get there, you must swim from an offshore boat, or from neighboring Kalalau Beach (a quarter-mile swim). But the trouble is worth it: Think cumin-colored sand bordered by soaring, vegetation-cloaked cliffs—and, usually, not a soul in sight. Fun fact: It's served as a location on such films as Six Days, Seven Nights, Raiders of the Lost Ark, and King Kong.
Palm Beach, Aruba
The two-mile-long strip on the northwest side of the island is filled with activities to keep you busy all day and night. Try your hand at parasailing or snorkeling before sitting down to enjoy a barefoot lunch at Pelican Pier Bar during the day. Then, head to the nearby casinos, restaurants, and nightclubs at night to make your lazy day a bit more lively.