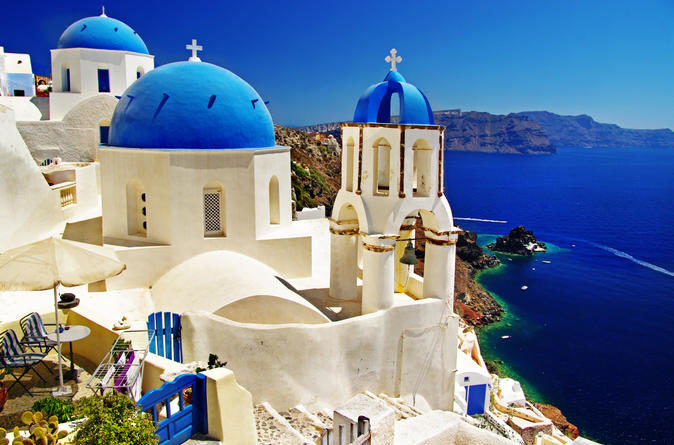 Heraklion Archaeological Museum
This state-of-the-art museum is one of the largest and most important in Greece. The two-storey revamped 1930s Bauhaus building makes a gleaming showcase for artefacts spanning 5500 years from Neolithic to Roman time.
#01 Sunset on Santoríni
If there are 1000 things to do before you die, having a sundowner overlooking Santoríni's crater would near the top of the list.
#02 Shipwreck Bay, Zákynthos
Lie back and enjoy the unforgettable scenery of one of Greece's poster beaches.
#03 Metéora monasteries
Rising like ecclesiastical eagles' nests, these monasteries are among the most awe-inspiring religious sites on earth.
#04 Ýdhra
The bare granite cliffs of Ýdhra (aka Hydra) soon part to reveal the fabulous horseshoe of its harbour, perhaps the most scenic in Greece.
#05 Wine tasting
There's much more to Greek wine than dodgy retsina and you should visit at least one vineyard while you're here. For more information, see Wine.
#06 Climbing Mount Olympus
A trek to the home of the Greek gods is supremely atmospheric and a worthwhile challenge for hikers.
#07 The Pelion
Billed as the Greek Tuscany, this region has it all: lush countryside, excellent beaches, character-packed villages and superb treks.
#08 Mýkonos Nightlife
Experience the most frenetic nightlife east of Ibiza at the party capital of the Greek summer.
#09 Mystra
A ghost town that provides a time capsule for the modern tourist to step through to the Byzantine age.
#10 Samariá Gorge, Crete
The 16km descent of this lush and leafy gorge enclosed by towering rock faces is an unforgettable hike.
#11 Mezédhes
For a true taste of Greece, tuck into a mezédhes (meze) platter of starters and dips accompanied by a glass of ouzo.
#12 Lion Gate at Mycenae
The imposing relief of lions guarding the main entrance to the Citadel of Mycenae is, incredibly, thirty-odd centuries old.
#13 The Acropolis, Athens
This small rock with its spectacular ruins is a cultural icon and a symbol of the birth of Western civilization.
#14 Kefaloniá
Famous as the setting for Captain Corelli's Mandolin, Kefaloniá remains a firm favourite despite the crowds.
#15 Delphi
Located in an unbeatable natural setting, this ancient site has retained its inscrutable mystique through the centuries.
#16 Easter
The biggest festival in Greece, Easter combines devout Orthodox belief with joyful spring celebrations.
#17 Windsurfing
There are very few places on the islands where you can't turn a windy day to your advantage, especially off Lefkádha in the Ionians or Náxos, Páros and Ándhros in the Cyclades.
#18 Rhodes
Once home to the ancient Colossus and the medieval Knights of St John, this is one of the most captivating islands in Greece.
#19 Pátmos
One of the most beautiful islands in Greece, Pátmos is also home to the haunting Monastery of St John the Divine.
#20 Skópelos
Mamma Mia! what an island – you can see why Hollywood's location scouts chose this as the ultimate sun-drenched Greek escape.
#21 Knossos Palace, Crete
Simply the best restored, vividly coloured and ultimately most exciting of Crete's Minoan palaces.
#22 Corfu old town
With its elegant Venetian architecture, fine museums and, uniquely, a cricket pitch, Corfu's capital is the heart of the Ionians.