Picking your next destination isn't easy, but there's a better way than spinning a big globe, closing your eyes and slamming your finger down . Introducing our ultimate month-by-month destination guide: your no-fuss list of places to go, things to see, and good weather to chase around the world.
We're looking at December, a month of festive spirit and celebration across the world – which means there's no better time to dust off that passport and start exploring! While the northern half of the globe are pulling on their warmest knits and sitting in front of crackling fires, those to the South are embracing short sleeves, longer days and warm weather. Whether you're in the mood for mulled wine and Christmas markets in Europe, or looking for a beach escape in the tropics – these are the places you should be adding to your itinerary for December.
India
If you're looking for a place of rest and relaxation after a busy year, the colour and chaos of India might not immediately spring to mind. Think again! Lush Kerala, in the tropical south of India, enjoys a vastly different pace of life to the rest of the country. Put your feet up on the deck of your houseboat as it glides along the Kerala backwaters, rejuvenate at a wellness retreat in the jungle forests, indulge in some of the country's freshest food, and wash away a busy year in the turquoise waters of the Arabian Sea. If you're looking for somewhere to ring in the new year, head to Fort Kochi to take in the colour of the Cochin Festival, a vibrant, chaotic week of celebration at the end of December.
Antarctica
Few places conjure images of intrepid explorers and wild frontiers quite like the icy plains of Antarctica. The good news is that you no longer have to assemble a team of huskies and brave adventurers and take off for months on end – these days it's all about cruising in comfort to the end of the world instead.December heralds the start of 'summer' in Antarctica, where temperatures reach just above freezing, the pack ice melts to let ships through, and the infamous Drake Passage is somewhat calmer. It's also the perfect season for getting up close with Gentoo penguins, migrating blue whales, and baby Penguin chicks too. Everything you need for an epic once-in-a-lifetime experience!
Finland
If you can't beat the winter, why not go all in and escape to a true winter wonderland? Finnish Lapland is a true Arctic wonderland; snow-dusted fir forests, rushing waterfalls, gentle reindeer and a vast, white wilderness that's guaranteed to leave you breathless .Strap on your hiking boots and crunch a path through the taigas, rustle up some huskies and experience the rush of a real dog sled, watch the sun go down over the pristine peaks, and then enjoy a traditional Sami meal or sauna while the skies dance with the Aurora Borealis. Keep an eye out for a jolly bearded man in a red suit around the 25th too – rumour has it Santa's workshop is right here!
Australia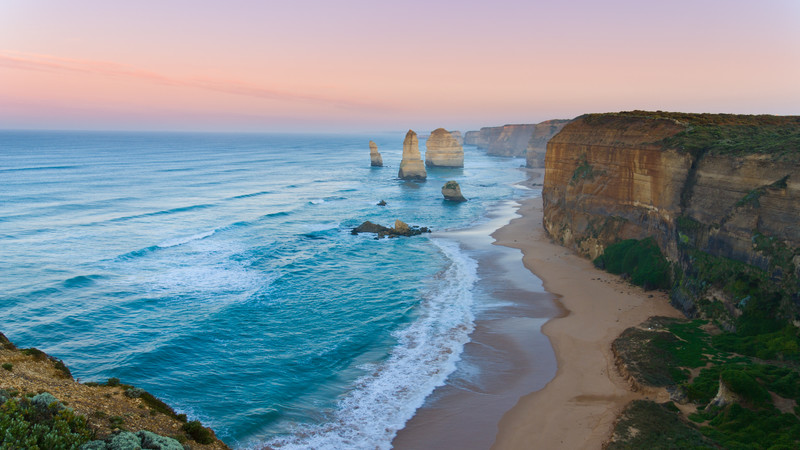 When it comes to the land down under, there's probably nothing more iconic than an Australian summer; bronzed surfers in flip flops, buzzing turquoise beaches, and 'throwing another Shrimp on the Barbie' on a hot Christmas Day. The warmer months are when Australia truly comes alive, with world-class cricket, tennis, vibrant music festivals, and outdoor cultural events everywhere you look.The far north of Australia becomes quite humid and monsoon-like now, so adventures through the south west and south east of the country are best during December. Think days spent frolicking at Bondi, wandering Tasmania's lush forests, sampling the best of Melbourne's gourmet scene, or cruising the stunning Great Ocean Road. If you're still around at New Years, the fireworks display over Sydney Harbour is not to be missed! It is also prime school holiday period, so be sure to book early to maximise your choices and beat the crowds.
New Zealand
Just like its neighbours across the Tasman, New Zealand really comes into its own during the summer months December. For those from the northern hemisphere, the novelty of a warm Christmas also extends to NZ, where you'll find families enjoying beach barbeques or playing cricket in the sun too. The 'Land of the Long White Cloud' is a true triumph of nature, full of secluded beaches, volcanic craters, glacial mountain ranges, and stunning fjords – and it's not hard to see why The Lord of the Rings trilogy was filmed here! It's also home to a world-class wine and gourmet scene. What more could you want?!
Cambodia
December = dry season in Cambodia, meaning blue sky days and comfortable temperatures just perfect for exploring getting your Tomb Raider on at Angkor Wat or cycling around Phnom Penh. Right at the heart of the Southeast Asian backpacker loop, Cambodia boasts a thread of pristine white coastline, lush emerald jungles with elephant-trodden trails, ancient cities, straw hut villages and bustling urban hubs – all waiting to be explored at pretty affordable prices. But it's the Khmer people here who really make the experience; extremely warm, welcoming and smiley, despite the recent dark history of their country. A Christmas break in Cambodia is sure to be a humbling, exciting, and inspiring experience for al.