For couples, a romantic getaway is a healthy way to spice up the relationship and as well to enjoy a relaxing time away from reality and as well to shut off the stress we get from working life.Anyone who is in the workforce would understand the value of having a proper vacation either alone, with friends or with our partners. I find the latter quite vital and an important aspect if you're in a relationship with someone. These romantic destinations in Europe are just a few of the many places you can visit when you travel to this beautiful continent.Romantic city breaks in Europe depends on what you and your partner both love. A weekend romantic getaways are ideal for short breaks in Europe and a good chance to briefly escape your usual routine. With a little research, you and your partner will certainly find the perfect romantic destination!
1. VENICE, ITALY
No list encapsulating romance in Europe would be complete without mention of the city of Venice. Although nowadays overrun by mass tourism, the city is still a favourite for loved up couples – and it's not hard to see why.The fabulous palaces and churches reflect centuries of history in what was a wealthy trading center between Europe and the Orient. Getting lost in the narrow alleyways is a quintessential part of exploring Venice.Get lost in the small island of Venice with your partner and stumble upon something unexpected while walking on the cobblestone streets of this romantic destination in Europe. Perhaps ride a gondola and cruise along the small canals of this famous romantic destination! Also, Venice is the perfect spot for your next romantic weekend breaks in Europe because it is small enough for you to see the top spots of the city.
2. SANTORINI, GREECE
No other place in the world has a better sunset than Santorini, and nothing is more romantic than watching a perfect sunset with your loved one. This island located in the Meditteranean ocean has too many unique and incredible things to do, like climbing an active volcano, jumping off a boat in to hot springs, sun-baking on black sand beaches and diving in to crystal clear waters. Just a dream place!This is where you can grab a delectable seafood feast at one of the many outdoor white and blue restaurants—while you watch the bright rays of the sun reflect and then disappear into the azure waters of the Aegean.
3.PARIS, FRANCE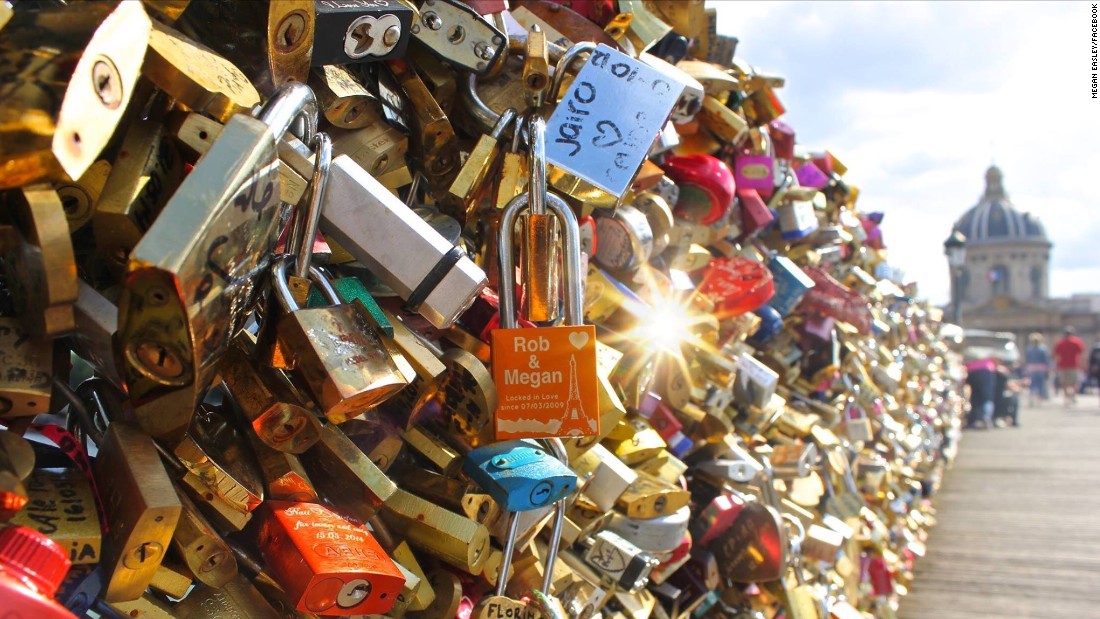 Mais oui, T+L readers gave the City of Light top marks for romance in this year's World's Best Awards survey. And how could they not? The modern metropolis is home to countless activities for lovers. Spend the day exploring the Louvre, meandering the cobblestone streets of Montmartre, and taking in the views from the Sacre Coeur, popping into boulangerie after boulangerie for buttery pastries, or walking hand-in-hand through the manicured Tuileries Gardens. It's all romantic. Don't forget to save time for the ultimate Parisian couple's activity: a simple, but très chic picnic for two along the Seine, sharing a bottle of wine, a fresh baguette, and brie.
4. PORTO, PORTUGAL
Located on Rio Douro's coast, Porto  is one of the romantic cities in Portugal. It is a portside town where architectural styles and colors converge. The classical state buildings, extravagant baroque churches, medieval bell towers, and pastel townhouses are just lovely and perfect backdrop for that long and deep conversation with your partner while sipping a cup of coffee or tea in a nearby café.
5.CINQUE TERRE, ITALY
From the splendor of Cinque Terre to the charms of the Tuscan and Lazio countryside, you will find passion punctuated with history and majesty embodied all around. The Mediterranean Sea splashes against the rugged coastline as fountains erupt with elegant water ballets and vineyards and olive groves add layers of greenery to the hills and cliffs of the landscape. Your Italy tour will encompass the secluded villages and old castles, Renaissance art and Baroque palaces to shape your view of romance through the ages.