Bahrain is famous for its gorgeous pearls which used to make their way all over the world from its bustling ports. Contrary to popular belief, it was these precious jewels from the sea that first made this Middle Eastern hub rich, rather than its more famous oil. In recent times however, this liquid black gold has taken over and Bahrain has become known less for its aquatic gems and more for its oil refineries.
1.Bahrain National Museum
The museum seeks not only to enhance understand and knowledge of Bahrain's history amongst locals only, but also play a role as an institutions which promotes global culture within the community, as evidenced by the numerous international culture and art exhibitions it has hosted over the years.
2.Manama
Winters, springs or autumn seasons are all a good time to plan a trip to Manama.The capital of Bahrain is the trading center and financial hub in the Persian Gulf. Its skyline includes two sets of twin towers, the World Trade Center and the Financial Harbor towers, and other business and residential high-rise constructions.
3.The Mysterious Tree of Life in Bahrain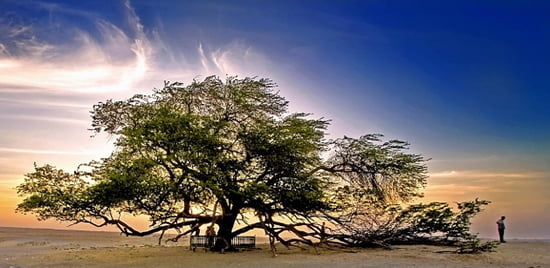 The Tree of Life or Shajarat-al-Hayat, as it is called in the local language, is a mesquite lonely tree that stands in the heart of Bahrain's desert for over 400 years.It stands alone, on top of a 25-foot-high sandy hill, at the highest point in Bahrain, miles away from another natural tree and with no apparent source of water. With 32 feet in height, it has continued growing-despite the extreme temperatures, lack of fresh water, and nutrients.
4.Al-Fateh Mosque
The Al-Fateh Mosque  is one of the largest mosques in the world, capable of accommodating over 7,000 worshippers at a time.
5.Royal Camel Farm
Home to 600+ camels, this Bahrain attraction on the outskirts of Manama.