Kuala Lumpur only dates back to the 19th century, when it was still a British colony. It is a mix of cultures, where Malays, Chinese and Indians live with their own heritage and foods. With its modern skyline and open spaces, it has become one of southeast Asia most pleasant cities.
Batu Caves

Batu Caves is a Hindu Temple located at the outskirt of Kuala Lumpur City. These limestone caves are 400 million years old.There is a total 272 steps leading up to the main caves temple. Batu Caves consists of three big caves. Cathedral Cave – the largest and most popular cavern in Batu Caves – houses several Hindu shrines beneath its 100-metre-high arched ceiling. At the foot of Batu Hill are two other cave temples – the Art Gallery Cave and Museum Cave – which houses numerous Hindu statues and paintings.
PETRONAS Twin Towers

PETRONAS Twin Towers remain the world's tallest twin structures. When the Petronas Twin Towers were completed in 1998 they were declared the tallest buildings in the world, surpassing the 442-metre-tall Willis Tower in Chicago, U.S.A. At the base of the Petronas Twin Towers is Suria KLCC, an upmarket shopping mall that is very popular with tourists.
KLCC Park

KLCC Park is a 202,343sqm urban sanctuary in the centre of Kuala Lumpur.Popular with kids, it can shoot water up to a height of 42m. These daily water shows occur at noon and in the evenings. Besides that, there is a public swimming pool for kids, plus waterfalls, fountains, cascades and reflecting pools scattered around the park.
Menara KL Tower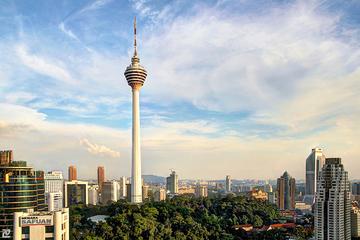 he Menara Kuala Lumpur Tower is a 421m high broadcasting and telecommunication tower located amidst the city of Kuala Lumpur. The observation deck inside the Menara KL tower is the highest in the city and gives a clear and elegant birds eye view of the city of Kuala Lumpur. The tower also houses the highest McDonald's outlet in the world. One more amazing fact about the Menara KL tower is that, it is ranked as the fourth highest telecommunication towers in the world.
KL Bird Park


There are more than 3,000 birds, out of which 200 species of local and foreign birds. It is spread over an area of 20.9 acres which makes it very spacious. KL Bird Park is divided into 4 zones. The free-flight zone is the Zone 1 and Zone 2. The Hornbill park is at Zone 3. If you want to see the birds very closely, have a look at the caged birds. The caged birds are placed in Zone 4.